Lothar Schreyer
Blasewitz bei Dresden 1886 - Hamburg 1966


Lothar Schreyer was born in Blasewitz near Dresden in 1886. He studied law and art history at the universities of Heidelberg, Berlin and Leipzig. In 1910 Schreyer graduated from university with a doctorate in jusrisprudence. During his studies Lothar Schreyer had shown interest in theater and art.
Schreyer began to paint. From 1911 to 1918 he worked as a dramatic advisor and assistant director at the "Deutsches Schauspielhaus" in Hamburg. From 1914 he worked with Herwarth Walden, director of the gallery "Der Sturm" in Berlin. From 1916 to 1928 the artist was editor of the journal "Der Sturm". Together with Walden, Lothar Schreyer founded an experimental Expressionist theater called "Sturm-Bühne" in 1918.
In 1921 Lothar Schreyer was invited to lead the stage workshop at "Bauhaus" as a master. After the failure of his production of "Mondspiel", the artist left Bauhaus only two years later. This cultic-religious play, which was to be staged using basic forms, basic colors, basic movements and basic sounds, caused vehement protest among the students.
From 1924 to 1927 Schreyer was a teacher and temporarily the head of the Berlin art school "Der Weg". From 1928 to 1931 Schreyer was head editor of the publishing house "Hanseatische Verlagsanstalt". In 1933 he converted to the Catholic church and was henceforth mainly devoted to the themes of Chritian art.
Even his early works of the 1920s represent a cultic, religious Expressionism but soon they moved from Expressionism to a supra-individual, objective formal language. During the 1930s the artist was preoccupied with Christian mysticism and folk ideas and ultimately the Nazi ideology.
After World War II, Schreyer continued the former "Sturm-Bühne" now called "Kampf-Bühne" in Hamburg, where productions included "Kreuzigung", "Mann" and "Kindsterben".
Lothar Schreyer died in Hamburg in 1966.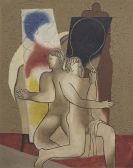 Willi Baumeister
Kniende Gruppe
59,940 $
Details
Willi Baumeister
Schwarze Bewegung
55,500 $
Details